Here's the complete library of Easter movies on Hulu available to stream.
WHAT EASTER MOVIES ARE ON HULU?
As of today, the only Easter movies on Hulu are available with the Live TV plan. However, more titles could be added, at any time. Be sure to check back on this post and the list of what's new on Hulu each month.
With a Hulu with a Live TV subscription, you can watch these titles. Don't have this subscription? Get 7 days free HULU with Live TV. Sign up here: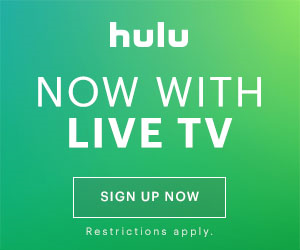 Easter Movies on Hulu (With Live TV)
Easter Basket Challenge
The Easter Bunny takes center stage as host Sunny Anderson welcomes seven bakers; they attempt to wow the judges, Chefs Jordan Andino and Claudia Sandoval, with their jelly bean-inspired pop art pastry tarts and oversized confections. | Stream on Hulu
Lost Empire of Easter Island
National Geographic explores controversial claims about Rapa Nui or Easter Island, challenging decades of previous claims from ecocide to cannibalism.
The Last Temptation of Christ
Jesus (Willem Dafoe), a humble Judean carpenter beginning to see that he is the son of God, is drawn into revolutionary action against the Roman occupiers by Judas (Harvey Keitel) — despite his protestations that love, not violence, is the path to salvation.
The burden of being the savior of mankind torments Jesus throughout his life, leading him to doubt. As he is put to death on the cross, Jesus is tempted by visions of an ordinary life married to Mary Magdalene (Barbara Hershey). | Stream on Hulu
Noah
When God decides that mankind has become too sinful and must be wiped off the Earth, he chooses Noah (Russell Crowe), a pious man, for a great task.
Noah must build an ark large enough to hold his wife (Jennifer Connelly), adopted daughter (Emma Watson), sons (Logan Lerman, Douglas Booth, Leo McHugh Carroll), and their wives — plus breeding pairs of every animal. When the task is completed, Noah and his family witness God's wrath in the form of an apocalyptic flood.
Rise of the Guardians
Santa Claus and other mythical cohorts unite to save the innocence of childhood from a devious villain in this animated tale. An all-star team of mythical childhood legends–Santa Claus, The Easter Bunny, and the Tooth Fairy, among them–unite to face a common foe in this animated tale.
When the devious Pitch returns to bring darkness and fear to the children of the world, it's up to Santa and his dysfunctional pals to save the day.
If you like this movie, you will want to read this book based on The Guardians of Childhood and The Man in the Moon by William Joyce.
Sale
The Tale of Peter Rabbit
Peter Rabbit's mother told him to stay out of Farmer McGregor's garden, but Peter couldn't resist…and almost ended up in a rabbit pie! Beatrix Potter's charming story of the mischievous rabbit comes to life in this animated musical special.
If you like this movie, you will want to read this book based on The Tale of Peter Rabbit.
Sale
To continue studying, check out Lent and Easter Bundle.
There is no shortage of Easter movies to stream. You can find:
Latest posts by Best Movies Right Now
(see all)