If you are looking for some Halloween movies on Hulu, there are some great options.
If you don't have a Hulu subscription, don't worry! Sign up here: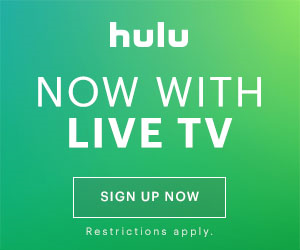 Get 1 month free of HULU
or
Get 7 days free HULU WITH LIVE TV.
Halloween Movies on Hulu
for adults
Scary Movie 5
Scary Movie is back with hilarious send-ups of the latest and greatest horror movies, featuring the biggest celebrities around including Ashley Tisdale, Charlie Sheen, and Snoop Dogg. (Watch on Hulu)
Bite Size Halloween
A series of stand-alone horror shorts ranging from the terrifying to the ridiculous. (Watch on Hulu)
Goosebumps 2
Amazon Prime Video (Video on Demand)
Wendi McLendon-Covey, Madison Iseman, Jeremy Ray Taylor (Actors)
Goosebumps 2: Haunted Halloween
While collecting junk one day, best friends Sonny and Sam meet Slappy, a mischievous talking dummy from an unpublished "Goosebumps" book by R.L. Stine.
Hoping to start his own family, Slappy kidnaps Sonny's mother and brings all of his ghoulish friends back to life — just in time for Halloween.
As the sleepy town becomes overrun with monsters, witches, and other mysterious creatures, Sonny joins forces with his sister, Sam, and a kindly neighbor to save Sonny's mom and foil Slappy's plan. Watch with Live TV Add-Ons.
Halloween Kills
The nightmare isn't over as unstoppable killer Michael Myers escapes from Laurie Strode's trap to continue his ritual bloodbath. Injured and taken to the hospital, Laurie reunites with Tommy Doyle, the boy she was babysitting on the night Michael began his reign of terror.
As Laurie continues to fight through the pain, Tommy leads an angry mob of vigilantes to rise up against Myers and destroy the evil once and for all. Watch with HBO Add-On.
Halloween (2018)
It's been 40 years since Laurie Strode survived a vicious attack from crazed killer Michael Myers on Halloween night. Locked up in an institution, Myers manages to escape when his bus transfer goes horribly wrong.
Laurie now faces a terrifying showdown when the masked madman returns to Haddonfield, Ill. — but this time, she's ready for him. Watch with Live TV Add-On.
Halloween Movies on Hulu for Kids
Blippi's Spooky Spell Halloween
Get ready for a spooky Halloween with Blippi! Learn all about fun Halloween decorations, visit a candy store for the best sweet and spooky treats, learn how to make a Jack-O-Lantern, and so much more. (Watch on Hulu)
Madagascar: A Little Wild – A Fang-Tastic Halloween
After hearing spooky rumors about the new habitat resident- A Bat- Marty is determined to protect his friends from the newcomer. But when the bat helps him out of a tough situation, Marty learns it's better to get to know someone before judging them. (Watch on Hulu)
The Halloween Candy Magic Pet
Join Mila and Morphle on a mystery-filled Halloween adventure! Jam-packed with morphs, costumes, twists turns, and spooky morphing fun. This 22-minute Halloween Special will be a kooky, spooky ride!
We meet the new Magic Pet Candyray who can turn anything or anyone into candy! We also meet Felipe at the farm, who joins our heroes on their crazy adventure in his corn maze.
There's a race against time to decorate the Magic Pet Center in time for the Halloweenist House Contest, but with Orphle and the Bandits getting in their way…it won't be easy. Perhaps Candyray holds the key! (Watch on Hulu)
Hulu with Live TV – Hulu's traditional on-demand streaming service with the bonus of live TV channels. Watch your favorite live sports, news, entertainment, and more. Plus, get unlimited access to the entire Hulu streaming library
Hulu On Demand – Enjoy unlimited access to the Hulu streaming library including full seasons of exclusive series, current episodes, classic favorites, Hulu Originals, hit movies, kids shows, and tons more with no commercial interruptions.
PREMIUM CHANNELS ON HULU
Enjoy one week free, then get Cinemax for $9.99/month in addition to your Hulu plan. Add Cinemax to your Hulu plan to watch hit movies, Cinemax original series, hours of exclusive clips, and more. Plus, with your Hulu plan enjoy full access to the entire Hulu streaming library.
Get SHOWTIME as a Premium Add-on for $8.99/month with your Hulu subscription. New Hulu subscribers can add SHOWTIME when you sign-up online or through the Hulu app on select devices. Current Hulu subscribers can add SHOWTIME through your account settings by selecting "Manage Premium Add-ons" on select devices.
More Halloween Movies:
Have you seen any of these Halloween Movies on Hulu?
Latest posts by Best Movies Right Now
(see all)