Wondering if you should use a service like PureVPN? Click here to read my honest review of the PureVPN service.
What is PureVPN?
PureVPN happens to be one of the market leaders when it comes to virtual private networks. They began in 2006.
Now, the much-sought-after network offers instantaneous access to video, music, social media content, and more even in the face of content restrictions while remaining protected all the time. Besides, there are no constraints whatsoever in terms of location and access.
What does PureVPN include?
PureVPN subscription offers unlimited access to websites with anonymous browsing support. It comes with multi-login and 256-bit encryption features along with WebRTC, IPV6, and DNS leak protection. Along with this are included split tunneling, internet kill switch, and P2P VPN support.
How much does PureVPN cost?
Buying PureVPN is a very flexible affair, for it comes in different budget plans to suit your needs.
As of June 2022:
Monthly: You can opt for the most basic, 1-month plan, starting at $10.95 per month.
Annual (12 Months): The charges for a yearly plan are much more affordable, at just $3.24 per month.
24 Months (Plus 3 Months Free): The charges for a 24-month plan are even more affordable, at just $1.99 per month.
5 Years: The absolute best monthly price is available with a 5-year plan for a mere $1.49 per month. (You will likely see this deal if you move your mouse as if you're going to close the website.)
Where can I sign up for PureVPN?
Signing up for PureVPN comes in a few simple steps online, at the PureVPN Website.
What kind of content does PureVPN have?
There is no limit to the kind of content you wish to browse with PureVPN, no matter what your location and how your public network restrictions.
Is there a PureVPN app?
Yes, there is a PureVPN app supported across multiple devices and platforms, including Windows, Mac, Linux, iOS, Android, Routers, and much more.
How can I get a discount on PureVPN?
PureVPN often offers special discounts on its website. Right now, the website is holding a holiday season discount of a whopping 88%!
Should I subscribe to PureVPN? Is PureVPN worth it?
With the secure routing of online traffic and all-around data encryption in place, PureVPN is definitely worth your time and money. It helps ensure that any data transmitted is not just safe and secure but also free from eavesdropping by unauthorized people even on a public Wi-Fi hotspot. So, yes, it's worth it!
Is PureVPN legit?
PureVPN is legit and has a certified global network.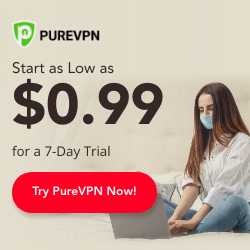 As you can see from this screenshot below, I signed up for PureVPN in March 2019.
Is PureVPN free?
Although PureVPN is not free, it comes at affordably priced plans. However, you can always opt for a money-back within the first 31 days of service if you are not content.
Is VPN 100% safe?
PureVPN offers you a self-engineered VPN service that you can use to send and receive data across the public network without hassles. The VPN runs seamlessly in the background offering great speeds and supporting all protocols across every server.
At the same time, it comes with a no-log certified policy which is great for someone looking for all-around online privacy. The safety, security, and 24×7 availability PureVPN offers remain unmatched across services in the market.
Related Posts:
Latest posts by Best Movies Right Now
(see all)