If you are looking for some Christmas movies on Hulu, there are some great options to add to your must-watch list of Christmas movies.
If you don't have a Hulu subscription, don't worry! Sign up here: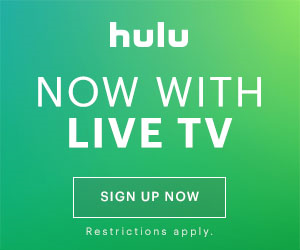 Get 1 month free of HULU or get 7 days free HULU with Live TV.
Christmas Movies on Hulu

Happiest Season
A Holiday Rom-Com about being true to yourself and trying not to ruin Christmas. | Stream on Hulu
A Cinderella Christmas
The Christmasquerade Ball gives hardworking Angie a chance to let loose. She quickly charms Nicholas but has to go suddenly, leaving him only one clue to find her in this modern, holiday take on the classic fairytale. | Stream on Hulu
The Christmas Calendar
When Emily, a small town baker, receives a Christmas Calendar from a secret admirer, it attracts the attention of the locals. With financial problems looming, the calendar turns out to be a Christmas miracle for Emily and the bakery. | Stream on Hulu
Married by Christmas
Carrie and Katie realize their family's company will be inherited by the first sister to marry. With Katie's Christmas Eve wedding already planned, workaholic Carrie sets out to elope before it's too late. | Stream on Hulu
A Christmas Movie Christmas
Eve and her cynical sister Lacy find themselves trapped inside a Christmas movie where they are the stars. | Stream on Hulu
Second Chance Christmas
A woman's husband uses her memory loss as a chance to make her fall in love with him again at Christmas. | Stream on Hulu
Nasty Piece of Work
A mid-level corporate employee finds out he's not getting the Christmas bonus he was expecting, but his boss invites him to earn a promotion by beating his professional rival in violent competition. | Stream on Hulu
A White Elephant Puppy Party
All will have a tail-wagging good time at this adorable fur-baby bash. | Stream on Hulu
A Christmas Hero
When a young disillusioned war vet, home from Afghanistan, sees nothing good in his life during Christmas a visit by his guardian angel shows him that his life did make a difference. | Stream on Hulu
A Christmas Switch
Two women magically switch bodies during the holidays and teach each other valuable lessons about family, love, and Christmas cheer. | Stream on Hulu
Christmas Belle
It's "Beauty and the Beast" for Christmas when auctioneer Belle goes to catalog and finalize Hunter's estate sale. Hunter begins to soften as they work together, though, putting both the estate sale and Belle's heart in jeopardy. | Stream on Hulu
Cupid for Christmas
Cupid, the god of love (Richard Kind), is burned out. He wants desperately to retire and hand the bow and arrow over to his protégé: the well-meaning, romantic, and completely hapless RUBY (Melanie Stone). | Stream on Hulu
London Mitchell's Christmas
London Mitchell who is known as Scrooge has previously lived an unscrupulous lifestyle, by divorcing his wife, barely seeing his children, and dumping a woman a month before Christmas to be with somebody else. | Stream on Hulu
The Truth About Christmas
After she tells a Christmas lie, a woman is cursed to only tell the truth when she spends the holidays with her boyfriend's family. | Stream on Hulu
Back to Christmas
Ali wakes realizing she's reliving a past Christmas allowing her to change the path of her love life with her ex or with someone entirely unexpected! | Stream on Hulu
Arthur Christmas
When Santa's high-tech Christmas operation misses one child, Santa's son Arthur sets out to complete the Christmas Eve mission the old-fashioned way – via reindeer! A hilarious animated treat! | Stream on Hulu
Christmas on Holly Lane
Three life-long friends reunite on Christmas to help each other's lives, and in the process their own as well. | Stream on Hulu
Dear Santa
As thousands of letters to Santa Claus flood post offices during the holiday season, it's up to the US Postal Service's 107-year-old Operation Santa to deliver them to Kris Kringle himself. | Stream on Hulu
A Winter Wedding
Love is tested when wedding plans go awry and the stress to keep the couple's families happy gets to be too much. | Stream on Hulu
Holly's Holiday
Holly Maddux longs for a man like a mannequin in a nearby store. After she slips and hits her head, she wakes to a perfect gentleman by her side. Holly hits it off with her new man but must choose between the perfect life and real love. | Stream on Hulu
The Holiday
Two women – one living in L.A. and the other in England – try to change their romantic luck by switching homes for the holidays. | Stream on Hulu
12 Pups of Christmas
Struggling to keep his dog GPS locator company afloat, Martin expects his new hire, Erin, to help him save the company and find homes for 12 puppies that were left behind after a photo shoot. As they work together, Erin and Martin begin to discover each other's positive qualities and find love just in time for the holidays. | Stream on Hulu
A Dogwalker's Christmas Tale
Luce is a reluctant dog walker this Christmas, but as she makes friends at the local dog park, including Dean, a handsome dog walker, she must take sides when her boss announces plans to bulldoze the park in the new year to build a spa. | Stream on Hulu
The March Sisters at Christmas
A modern retelling of Louisa May Alcott's "Little Women" follows four sisters who learn their mother plans on selling their home after the holidays. To keep the family together, the sisters try to restore the house. | Stream on Hulu
The Man Who Invented Christmas
Charles Dickens' magical journey led to the creation of Ebenezer Scrooge, Tiny Tim, and other classic characters from "A Christmas Carol." | Stream on Hulu
A Christmas Solo
Two single parents try to use Christmas magic to calm down the rivalry between their daughters, however, they discover that they are not immune to that magic themselves. | Stream on Hulu
***
Hulu with Live TV – Hulu's traditional on-demand streaming service with the bonus of live TV channels. Watch your favorite live sports, news, entertainment, and more. Plus, get unlimited access to the entire Hulu streaming library
Hulu On Demand – Enjoy unlimited access to the Hulu streaming library including full seasons of exclusive series, current episodes, classic favorites, Hulu Originals, hit movies, kids shows, and tons more with no commercial interruptions.
PREMIUM CHANNELS ON HULU
Enjoy one week free, then get Cinemax for $9.99/month in addition to your Hulu plan. Add Cinemax to your Hulu plan to watch hit movies, Cinemax original series, hours of exclusive clips, and more. Plus, with your Hulu plan enjoy full access to the entire Hulu streaming library.
Get SHOWTIME as a Premium Add-on for $8.99/month with your Hulu subscription. New Hulu subscribers can add SHOWTIME when you sign-up online or through the Hulu app on select devices. Current Hulu subscribers can add SHOWTIME through your account settings by selecting "Manage Premium Add-ons" on select devices.
MORE CHRISTMAS MOVIES:
HAVE YOU SEEN ANY OF THESE CHRISTMAS MOVIES ON HULU?